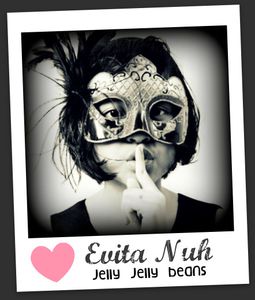 What is Jelly Jelly Beans and who is Evita Nuh ? Evita Nuh is me, I'm 11 years old and have no idea when I first made my blog, that my age would be such an issue, I was 9 back then. So yeah I'm a girl with a lil bit to much love for fashion and photography. I love dressing up myself just like I love dressing up my barbies. I'm from Indonesia, one of the most beautiful tropical countries in the world, and I was born in 1st January 1999. In my daily life I'm pretty much a normal kid, a student in a Catholic school and currently learning hip hop dance, kung fu (or wushu), and Chinese language.
Why did you name your blog jelly jelly beans ? That is the first thing that popped out when I made my blog. And story behind it, I like jelly beans, so colorful, you'll think it's gonna be a super sweet candy, but it's not.
How is it to be a fashion blogger when you are 11 years-old ? It's hard; many people think my blog is somehow made by someone else, someone older. I don't know where they got that idea from, but I take that as a huge compliment, it means I do a good job, it's so good, they cannot even believe it. hehehe
I guess many people compare you with Tavi. Do you know her? Yes I get that a lot; yes, of course I know her blog, she's everywhere. Some people compared us, and it's an honor being compared with her. Some people also said I'm copying her, well in my defense I knew her blog after I made my blog, and I remember being so relief, when I know someone around my age doing this too, it's like finding a friend. And also there's nothing new under the sun right? Maybe it's because our age we being compared a lot and the fact that not many blogger around our age, because if you really notice we've got a really different style.
Do you like her blog? Yes I do,I love her style, I love her coolness, the way of her thinking, her boldness.
How do you think yours is different? I guess, I'm not as creative as her, she can make everything look cool, while I'm not.
Where do you find inspiration? Many things, movies, books, music's, and peoples.
How do you imagine your future as a blogger ? I have none, I just do what I love, well right now I love to blogged, and never really thought the future of it.
What is your dream career? People always said that is going to be something fashion related, but I don't know for sure, I still have a long way to walk. And in person I'm not all about fashion, sometimes I get approach by people who want to talk with me, and when they talk like an hour just about fashion, I got bored, it's like "come on is just all you got in mind?" . Right know I do love fashion so much, but I do have another thing that I love too. I never know about tomorrow. I guess just do what I love.
What do you think about French bloggers ? Oh my God, you all are beautiful, and really inspired me, I always wondering how come you all can be so beautiful. Love you ! I'm dying to learn French ! My favorites ? Oh my God, this is going to be long night list, but let see, here's my top 5
1. Alix from www.thecherryblossomgirl.com : remember when I told you about the first blog I see? It's hers! Oh my, it's so beautiful! She's my inspiration.
2. You! Seriously! I found you through hypeed and it's love for the first sight! Ilove your pictures, I love love your style! And your blog is so cool! Love the design so much! I love you!
3. Slanelle from www.slanellestyle.blogspot.com she also doing www. hypeed.com she's so pretty and nice, and I love how she mixed everything. We also become good friends now, we sometime tweeting each other.
4. Sandy Miller and Andrea Bomo from www.parismostwanted.com gosh! I love that two beautiful and fierce ladies so much, and when they wrote about me in their blog, I'm speechless.
5. Pandora from www.misspandora.fr oh my, I love her pictures and her style is a mind blowing.
If you were a pair of shoes, you would be...
a pair of converse, I'm simple, and I'm sure just like converse legend, I will be a lot cooler as I'm getting older, hehehe.
If you were a handbag, you would be...
A vintage bag, it's one of kind, no one can guess the price, it's priceless.
If you were a famous designer, you would be...
Ika Butoni! She's a new cool friend of mine. When I first saw her design, I was crying! its crazy how someone's talent can captivate you. I love how every of her piece seems so mysterious, bizarre yet so beautiful! A beautiful mixed of many kind ethnicities. Yes, if I'm a famous designer I would love to be her.
If you were an e-shop, you would be....
fredflare.com! hahaha, you'll get the cutest thing and one of kind there
If you were food, you would be...
Cheese! Same reason as converse shoes, older is better.
If you were a movie star or a famous singer, you would be...
Greta Garbo, my daddy is a big fan of her; I pretty much growing up with her movies. I watched her movies with my dad over and over again. So I'm so surprised when someone emailed me and tells me that I remind him of Greta Garbo. He said just like Greta, I extremely close with my dad, and probably just like her, I love what I do, but never feel comfort when the lime light strikes me. Oh my, he maybe right. That's why most of the time I refused a magazine interview, I do it only if I feels like I want to. I'm not like some people thinks, that I'm arrogant, I'm not! But I just find it's hard to being around so many people. And what she said in here, is so true, I feels her "I have always been moody. When I was just a little child, as early as I can remember, I have wanted to be alone. I detest crowds, don't like many people. I used to crawl into a corner and sit and think, think things over"
If you were a color, you would be…
I guess Red. I'm brave.
If you were a place to stay, you would be...
The most beautiful and peaceful place, silent but peaceful.
If you were a magazine, you would be...
Lula magazine perhaps.
It's so hard to get.
If you were you, you would be....
Still me. I love me, hehehe.
IF YOU WANT TO COMMENT THIS INTERVIEW, PLEASE TELL US WHAT YOU THINK BY COMMENTING BELOW THE FRENCH VERSION HERE !